Biography          Exhibition          View Works 
                                                         1 / 11                                            next »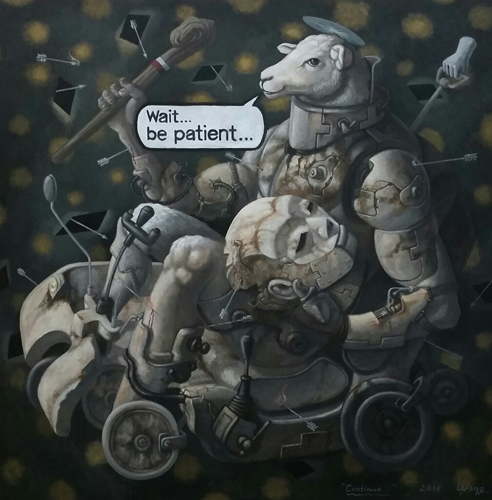 Continue...    2016, Acrylic on Canvas, 122 x 122cm
I am a Christian, enjoying being a child of God, for more than half of my 49 years of life so far.
One of the most common struggles I face is that my spiritual growth seems too slow, especially in terms of my moral character. Scenes of argument, love, hatred and unforgiveness seem to be constantly playing in my life. As a result, I felt that my spiritual fruits seem scarce, and I often tell myself, "Just a little more patience, for my spiritual growth will need time as well."
In the painting, the head of a lamb represents a child of God, and the different body parts, except for the left and right legs and knees, show signs of aging and failing health expressed in the form of rust. This also expresses my dependence on my human effort in resolving many of life's issues and challenges. At the same time, the flying arrows are the devil's attacks against me.
Yet in the midst of all these, God's only task for me is to rest, as expressed in the sitting posture of the lamb. The lamb is sitting in a push cart, and the hands are the hands of God, that speaks, "Let God do all the work". The only thing I need to do is to constantly remind myself to sit down quietly and wait upon the Lord, even if this sitting and waiting takes another 10 years, so must I persevere… for this itself is enough.
P.S. In order for one to sit down, one must have a revelation of only God has absolute authority and power, as represented by the staff in the painting.

在我四十九年的生命裡有半數過的是有"神"(上帝)的生活 - 即是信徒的生活。
這些年來常有的掙扎是覺得自己成長得很慢, 即是說在道德品格上停滯不前, 舉凡爭執, 冷漠, 愛看驚悚片和記恨記仇也不時在生活中上演! 就這般的, 常覺得自己良善的果子結得很少... 或是說: "應該多一點耐心, 成長確實是需要時間的。(我常這麼想著)"
畫中羊頭(代表神的子民)的身上大部分的部位(除了左右腳的大腿和膝蓋處外)都呈現出生鏽的鐵質(代表著過去的舊性情), 訴說著年齡的增長導致自己在健康和體力上已逐漸衰退... 同時也可比作在日常生活中所面對的一切大小事在很大程度上都依賴著屬血氣的生活態度,習慣以及方法來應對...。與此同時, 我的仇敵"魔鬼"也不時的會對我進行攻擊(畫中的許多箭)。
在這種種情況下, 慶幸的是"神"要我做的事其實很簡單, 祂隻要我安靜的"坐下(安息)"就行了(畫中的羊正"坐"在一輛手推車, 手把上的手是神的手), 其余的都讓祂來做就行了。而我要做就是要常提醒自己要安靜的坐下及耐心地等候神, 哪怕是要"坐"和"等"足十年也得堅持, 僅此而已。
附注: 要"坐下"是信心的, 那信心是建立在知道神擁有絕對的"權柄"(畫中的手杖)。