PREVUE #01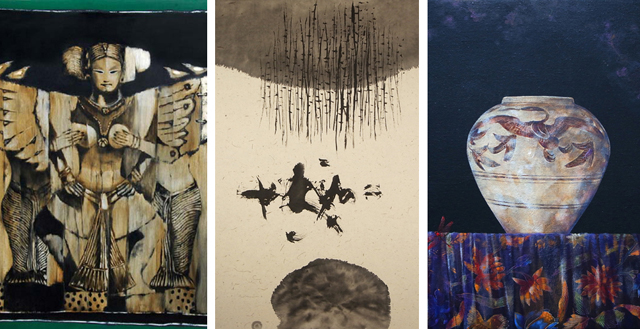 Duration

展期

21 Aug – 08 Sept 2012
8月21日至9月08日
Tue - Sat: 1pm – 7pm
(Sun, Mon and Public Holidays by appointment)


星期二至星期六: 下午1時至7時
(星期日、一及公共假日,敬請預約)


Venue
展出地點
ART PROJECTS GALLERY
Unit 7, Level 14, Oceanic Industrial Centre,
2 Lee Lok Street, Ap Lei Chau, Hong Kong


藝途畫廊
香港鴨脷洲利樂街
海灣工貿中心14樓7號


Enquiry: info@artprojectsasia.com
                +852 3485 5336
查詢: info@artprojectsasia.com
             +852 3485 5336
Art Projects Gallery is proud to present PREVUE #01, an exclusive selection of works by three artists, Edi Sunaryo, Oh Chai Hoo and Yap Chin Hoe.
The works of these three talented artists collectively reflect the rich diversity of the countries where they hail from - Indonesia, Singapore and Malaysia, all part of Southeast Asia, a geographically expansive and populous region characterized by vibrant social and cultural variations.
As diverse as they are in terms of their genres and techniques, the artists share a common thread of imbuing their art works with traditions and memories into fascinating contemporary expressions. In their works, meanings are meticulously layered into visually enchanting imageries and compositions, to create delicate veils waiting to be uncovered.
About the Artists
Edi Sunaryo (b.1951, Yogjakarta, Indonesia) graduated in 1980 from the Sekolah Tinggi Seni Rupa Indonesia "ASRI" in Yogjakarta, where he won the Pratisara Affandi Adi Kayra award in 1975 and 1979. In 1997, he received his Master of Fine Arts degree from the Institute Teknologi Bandung and in 2012, he successfully completed his Doctorate in Creation of Art from the Indonesia Institute of The Art, Yogjakarta. Known for his imaginative use of symbols, the artist is a master in oil painting and woodcut printmaking, creating striking imageries with subtly hidden provocative meanings. While already an established artist, Edi Sunaryo is also a highly regarded academic and currently teaches at the Faculty of Fine Arts, ISI/ Indonesia Institute of The Arts Yogjakarta, Indonesia.
Oh Chai Hoo (b.1960, Singapore) graduated from the Nanyang Academy of Fine Arts Singapore in 1982. He won the Siaw-Tao Achievement Award in 2009. Highly influenced by his Chinese roots and Zen Buddhism, Chai Hoo constantly seeks inspiration from both the physical and spiritual aspects of life. In his contemporary abstract ink paintings, Chai Hoo creates highly contemplative and atmospheric imageries inspired by nature. A master of the ink painting, Chai Hoo employs both the wet and dry-brush methods to create variations in forms and textures, with the brushstrokes at times evoking a sense of reflective calm while at other instances conveying a sense of strength and youthful dynamism.
Yap Chin Hoe (b.1970, Klang, Selangor, Malaysia) graduated from the Malaysia Institute of Art with a Double Major in Oil Painting and Print Making in 1991. Chin Hoe is well known for his mesmerizing still-life paintings,with the depiction of Peranakan porcelains and antique Chinese furniture which reflects the artist's Malaysian Chinese heritage. Skillfully juxtaposed with the setting the artist so meticulously composed, are intricate details such as the dancing dragonflies, the elegant poise of the foliage or the richly patterned translucent draperies. These delicate touches create an added dimension of movement and energy to the painting making it both refreshing and poetic.

View Edi Sunaryo's Works          View Oh Chai Hoo's Works          View Yap Chin Hoe's Works