Opening Reception with Artist Madoka Takagi

藝術家出席開幕酒會

14 Jan 2017 (Saturday) 3.30pm – 5.30pm





2017年1月14日 (星期六)下午3點半至5點半




RSVP | Enquiry: info@artprojectsasia.com
                           +852 2523 5688


RSVP | 查詢: info@artprojectsasia.com
                           +852 2523 5688



Duration

展期

14 Jan – 11 Feb 2017
2017年1月14日至2月11日

Mon-Sat: 11am - 6pm


(Closed for Chinese New Year holidays from 27 Jan - 5 Feb 2017)



星期一至星期六: 上午11點至下午6點


(2017年1月27日至2月5日休息)


Venue
展出地點
ART PROJECTS GALLERY
Unit 17A, 17/F Regency Centre Phase 2
43 Wong Chuk Hang Road, Wong Chuk Hang, Hong Kong

藝途畫廊
香港黃竹坑道43號
偉晉中心2期17樓17A室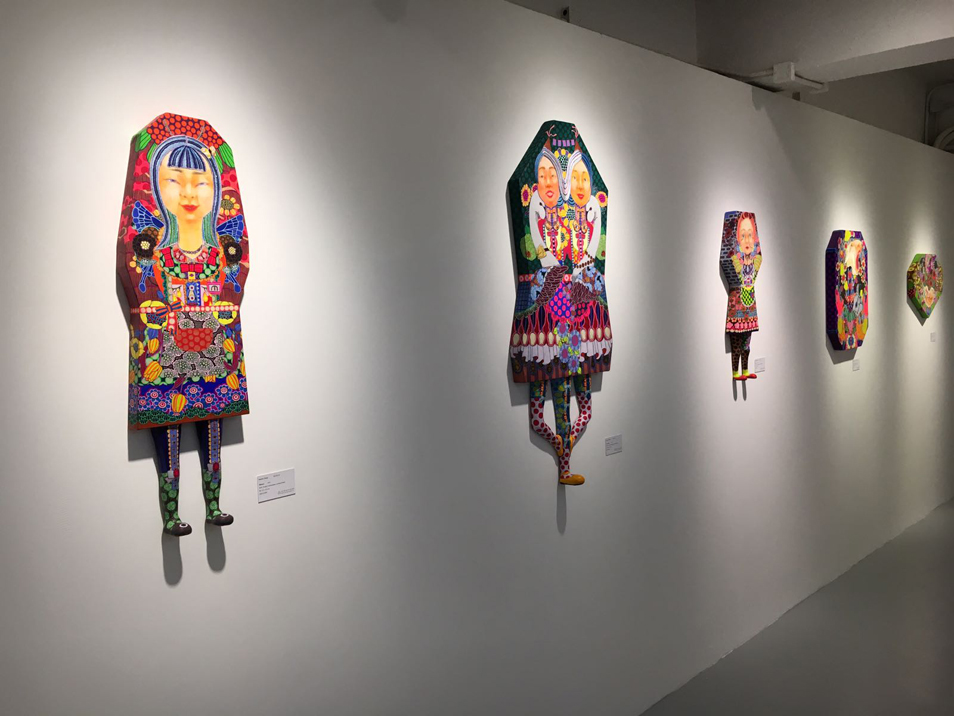 FACE TO FACE is the title of Japanese artist, Madoka Takagi's latest solo exhibition in Hong Kong at Art Projects Gallery. This latest collection of works feature her trademark acrylic on rice paper and canvas with hand embroidery paintings, as well as mixed media sculptural elements.
Takagi has the uncanny ability to articulate the complexities of the human desires and thoughts into imaginary creatures. In her usual signature style, the works feature rich juxtapositions of patterns, intricate line work and vibrant colors. These visual manifestations of peculiar-looking personalities, some morphed together with parts of animals and insects, revels within the psychedelic wonderland created by Takagi, with faces that seem eager to relate to the audience the strange delightful tales of their curious existence.
Madoka Takagi is a contemporary Japanese artist, born in 1983 in Tokushima, Japan. In 2008, she graduated from the Graduate School of Tama Art University majoring in Printing, which has been instrumental is shaping her current painting style. She is also strongly influenced by Japanese textile, owing to the fact that her mother is a Japanese dressmaker. Takagi has held group and solo exhibitions in Hong Kong, Tokyo, Taipei, New Delhi and Italy.

《面對面》為日本藝術家高木まどか(Madoka Takagi)於藝途畫廊舉辦的最新個人展覽。是次展覽將展示她的近期作品,包括其標誌性的手工刺繡混合亞克力彩紙本及布本畫作、以及混合媒介雕塑。
高木能夠運用其不可思義的能力,把人類複雜的欲望和思想化作虛幻的生物。她以其獨特的風格,排列出豐富的圖案、錯綜複雜的線條及鮮艷的色彩。這場視覺盛宴展現了由高木創造的迷幻樂園,描繪着外貌獨特的人物,有些擁有動物和昆蟲的肢體,帶着熱切的表情,猶如渴望着把觀者帶入他們奇幻的故事之中。
高木まどか(Madoka Takagi)為一名日本當代藝術家,生於1983年日本德島縣。他於2008年畢業於日本多摩美術大學研究生院,主修版畫,從此塑造出當今的繪畫風格。高木的母親是一名日本的裁縫,日本紡織亦因此深深地影響了他的創作。他曾於香港、東京、台北、新德里和義大利參與及舉辦過多次聯展和個展。