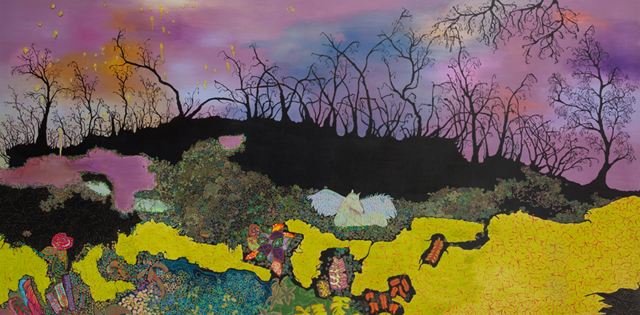 The Most Distant and Closest Place     Acrylic on Canvas, 100 x 200 cm, 2012
Opening Reception with Artist

藝術家出席開幕酒會

12 Jan 2013 (Saturday) 4pm – 6pm





2013年1月12日 (星期六)下午4時至6時





Duration

展期

12 Jan – 28 Feb 2013
1月12日至2月28日
Tue - Sat: 11am – 7pm
(Sun, Mon and Public Holidays by appointment)


星期二至星期六: 上午11時至下午7時
(星期日、一及公共假日,敬請預約)


Venue
展出地點
ART PROJECTS GALLERY
Unit 7, Level 14, Oceanic Industrial Centre,
2 Lee Lok Street, Ap Lei Chau, Hong Kong


藝途畫廊
香港鴨脷洲利樂街
海灣工貿中心14樓7號


RSVP | Enquiry: info@artprojectsasia.com
                             +852 3485 5336
回覆 | 查詢: info@artprojectsasia.com
                           +852 3485 5336
Art Projects Gallery is delighted to present Chinese artist, Gao Ge's first solo show in Hong Kong, "Lucid Dreaming". Gao Ge (b.1984) is an emerging talent from China's Post-80s generation of artists who are set to redefine the future of artistic expression and development in China.
Based in the artist's village of Song Zhuang in Beijing, Gao Ge's works depict mesmerizing dreamlike imageries that on closer inspection, reveals the artist's inner psyche and personal emotions. Gao Ge's paintings often feature surrealistic settings of intricate details and soothing colors, in which she poetically places her subjects, sometimes tiny in comparison to the extent of the canvas ("Legend") and at times partially obscured ("Seeking Phoenix Tree"), or even absent ("Come and Gone"). The play of scale, juxtapositions and pictorial space are skillfully used by the artist in her works.
Gao Ge's works are inherently melancholic, introspective and sophisticated. Perhaps, in her paintings, the artist has choreographed her own fantasy worlds to replace actual events in her life; a virtual realm in which she can ease her emotions and to find her true self.
Gao Ge graduated from Tianjin Engineering Technical Institute, Department of Art in 2005. Her works have been exhibited in various shows in China, South Korea and Taipei, including solo shows in Beijing, Zhengzhou, Shanghai, and Tokyo in recent years.


藝途畫廊榮幸介紹來自中國的畫家﹣高歌,第一次的香港個人展覽《清醒夢》。生於1984,才華出眾的高歌是中國當代其中一位正為未來中國藝術發展從新定義著的八十後新進畫家。
長注於北京的宋莊畫家村,高歌的作品在描繪迷人和夢幻的畫面背後,反映了畫家的內心世界和私人的情感。結合了纖巧描繪手法及柔和色彩的超現實場景,成為高歌作品的特徵。從中,高歌綽約地擺放她的主題:有時候,主體相比起畫布的面積顯得異常細小,如作品系列中的《傳說》;有時候,部份主體相對隱蔽,如作品系列中的《覓梧桐》;有時候,甚至沒有主體,如作品系列中的《來了又走》。比例、排列、繪畫空間都被畫家巧妙地操縱在其作品中。
高歌的作品具有抑鬱、自我反省和複雜的內在特質。也許,在作品中,高歌一直在精心設計著如何去將她原有的現實取代成幻想中的世界;好讓她在那虛擬境界里去緩和她的情緒及尋找真正的自我。
高歌於2005年從天津工程學院藝術系畢業。她的作品曾在中國、南韓和台北的大小展覽中展出,包括最近幾年在北京、鄭州、上海和東京舉辦的個人畫展。