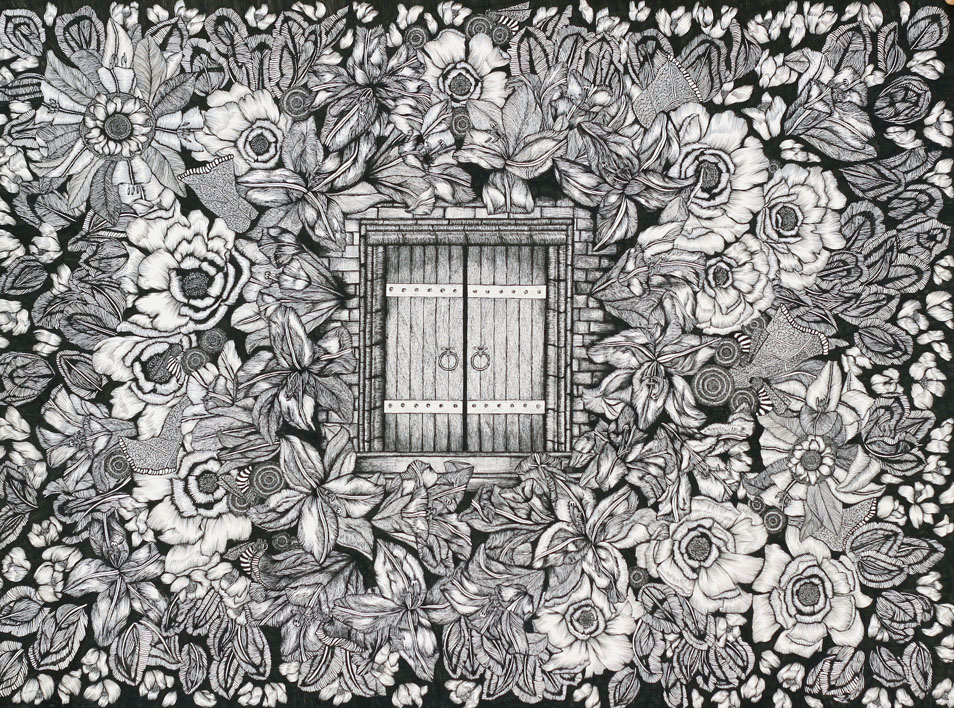 A Secret Garden  Pen and Ink on Paperr, 57 x 76cm, 2018
Opening Reception with Artist Leah Clough

藝術家出席開幕酒會

3 Feb 2018 (Saturday) 4pm – 6pm





2018年2月3日 (星期六)下午4點至6點




RSVP | Enquiry: info@artprojectsasia.com
                           +852 2523 5688


RSVP | 查詢: info@artprojectsasia.com
                           +852 2523 5688



Duration

展期

3 Feb - 10 Mar 2018
2018年2月3日至3月10日

Tue - Sat: 11am - 6pm


(Closed for Chinese New Year from 15 - 22 Feb 2018)



星期二至六: 上午11點至下午6點


(2018年2月15日至22日農曆新年期間休息)

Venue
展出地點
ART PROJECTS GALLERY
Unit 17A, 17/F Regency Centre Phase 2
43 Wong Chuk Hang Road, Wong Chuk Hang, Hong Kong

藝途畫廊
香港黃竹坑道43號
偉晉中心2期17樓17A室

Art Projects Gallery is delighted to present Hong Kong artist, Leah Clough's solo exhibition titled "At Midnight", showcasing her latest series of hand drawn ink and pen works.
About the works
Stories come alive at night when ideas of magic and mystery feel more real. These drawings bring back the childhood feelings of comfort from being read a book at bedtime, adventures told by a campfire, or excited whispers of stories in the dark.
This series of work originates from an array of Leah's childhood recollections; book titles, a line from a song, fictional landscapes remembered in bits and pieces, her mother singing, or her fathers voice reading aloud. Both children and adult books inspire them, from Where the Wild Things Are to The Night Circus. They hint at nostalgia for a forgotten imagination and childhood fantasy by the titles given to them, but also celebrate the romance of travel and discovering exotic worlds. The titles of each drawing play a role, much like a cover of a book and title; they have the power of suggestion and light the way to a story.
Leah believes in the artist and the viewer bringing each of their history to the picture, she leaves clues hidden in the drawings for you to find and create your own story. Although a drawing may represent Leah's own memories or imagination, they are also purposely abstract and mysterious. They possess a dream like quality, which is open to interpretation. The drawings have a common thread, 'A Secret Garden', 'To Wild Things!', 'Down the Rabbit Hole', all begin from books read, but all lend to the theme of the unknown, a journey, and growth. For the works 'Home' and 'While We Sleep', ideas of protection and safety is suggested, as well as the notion of adventure. There is a constant pull between concepts of wistful looking back at your childhood and the excitement of setting off on a future voyage.
Over all these are pieces of escapism that pay homage to childhood, magic, mystery, and the thrill of going on a journey, whether it be in art, fiction, or our own life's adventure.
About the artist
Leah Clough is a Hong Kong born drawing artist, whose artwork pays homage to botanical etchings and illustrations. Primarily working in pen and ink she creates intricate drawings that are characterized by their micro detail of lines and floral imagery. Leah uses ordinary gel pens as a drawing tool to capture the exotic and animal side of flowers. With a background degree of Drawing and Applied Arts and a Masters in Fine Art Drawing, she has shown in London, Croatia and Hong Kong.

藝途畫廊榮幸呈現香港藝術家Leah Clough個展《在午夜》, 展示一系列近期筆墨作品。
有關作品
夜晚是故事活過來的時候,魔法和神秘的想法在黑夜之下顯得更加真實。是次展覽的作品試圖令人回想起童年在睡前閱讀書籍, 如篝火講述的冒險,或是黑暗中令人興奮的小說耳語, 所帶來的舒適感。
這一系列作品的創作靈感來自Leah童年的回憶。無論是書名、一段歌詞、虛構景象的點滴、母親哼的歌、或是父親朗讀的聲音;又或者是兒童還是成人的書籍,從《野獸國》到《夜行馬戲團》,都是作品創作的靈感來源。單從它們的書名,就足以讓人憶起童年時光所被遺忘的想像和幻想、旅遊的浪漫和發現異國風情的樂趣。這次所展出的Leah的每幅作品的標題,有如一本書的封面和書名,引導人們對故事的想像。
藝術家Leah深信每個觀眾背後都有各自的經歷和過去,在解讀作品畫面中她所隱藏的線索的過程中,便能編織一個屬於自己的故事。儘管作品靈感起源於Leah本身的記憶和想像,然而抽象的創作手法,給予作品濃厚的神秘感,有如夢幻一般,可以有各種解讀方式。是次展覽展出的作品,如"神秘的花園"、"野獸世界"、"掉到兔子洞"等,有如童話故事般,都傾向於未知、旅程和成長的主題。作品"家"和"當我們沉睡時",提議忘保護和安全的概念的同時,也不忘冒險的精神。作品令人處在回顧童年時期的渴望與未來旅程所來的興奮之間。
無論是在藝術作品裡、小說裡、或是我們自己人生的旅途中,通過回顧童年、陶醉于魔幻與神秘之中、或是探險旅程的快感,殘留著逃避現實的點滴。
有關藝術家
Leah Clough, 香港本土藝術家,以細膩的植物蝕刻和插圖手法為創作手段。主要以筆墨為創作媒介,Leah由線條和花卉圖像的微觀細節,延伸至一幅幅複雜的構圖。
她使用普通的凝膠筆作為繪畫工具來捕捉花卉的異國情調和動物的一面。擁有繪畫和應用美術的學術背景及美術繪畫碩士學位,Leah的作品曾在倫敦、克羅地亞和香港展出。